The start of the Collingwood 2010 Festival was marked by the opening of an exhibition at Newcastle's Discovery Museum.  
Collingwood – A Northumbrian Abroad
Vice Admiral Lord Cuthbert Collingwood died at sea on the March 7 1810 on board his flagship, Ville de Paris. He was many miles from his native Northumberland, but he had done his duty to the very end.
This exhibition marked the 200th anniversary of Collingwood's death using an interesting mix of items from Tyne and Wear Archives and Museums collections together with loans from descendants of Admiral Collingwood and others to commemorate his life and extraordinary naval service. A full length portrait of Collingwood from the Laing Art Gallery painted in 1806 by James Lonsdale was too big to fit the exhibition space so it took pride of place alongside Turbinia in the Discovery entrance.
(Collingwood is best known for taking command and completing the victory after the death of his friend, Admiral Horatio Nelson, at the Battle of Trafalgar in 1805. But he first went to sea in 1761 and died on active service five years after Trafalgar.)
One of the items on loan from the Collingwood family was a log book he kept when he was a midshipman aboard the 28 gun frigate Liverpool on a voyage to the Mediterranean in 1770-71.  Although still a midshipman he was rated master's mate, with special responsibility for navigation, and the book includes drawings of distinctive coastlines and a plan of Port Mahon in Menorca.
Another star loan item was the sword Collingwood received to signify the surrender of Santa Anna, the Spanish flagship at Trafalgar. He was told it belonged to Vice-Admiral d'Alava and that d'Alava was not expected to live. Collingwood allowed the 'dying' man to stay aboard Santa Anna which drifted into Cadiz and d'Alava recovered from his wounds. He later denied he had surrendered because it wasn't his sword that was handed over! Collingwood had cause to regret his humane treatment of the Spanish admiral since he had lost a valuable prize.
The exhibition looked at Collingwood's naval service but also tried to show how he used letters to maintain ties with family and friends back in Northumberland. Extracts from these letters were used throughout.
Collingwood was happiest at home in Morpeth, enjoying family life and pursuing his hobby of gardening. The tragic irony is that once he joined the navy he was able to spend only seven of the remaining forty-nine years of his life in his beloved Northumberland.   
Ian Whitehead, Tyne and Wear Museums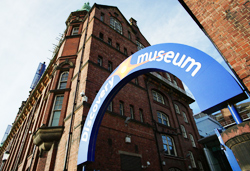 Discovery Museum
Blandford Square,
Newcastle upon Tyne,
NE1 4JA
Tel: 0191 2326789
Opening hours:
Monday to Saturday 10am – 5pm
Sunday 2pm – 5pm.
Admission is free