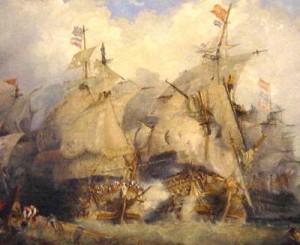 The Collingwood 2010 Festival website is pleased and honoured to be able to provide here Max Adam's wonderful 'Collingwood – Northumberland's Heart of Oak' as an audio book, read by the author himself.
The book is divided into 12 parts, each of which is started by clicking on the respective link below. Please note that an small audio player will open in a new window, from which the usual controls are accessed.
An illustrated bicentenary edition of the printed book is available from Newcastle Libraries, Tyne Bridge Publishing.
Image detail from "The Heroic Exploits of Admiral Lord Collingwood in HMS Excellent at the Battle of Cape St. Vincent' by John Wilson Carmichael, courtesy of the Newcastle upon Tyne Trinity House.
Part 1  Part 2  Part 3  Part 4  Part 5  Part 6  Part 7  Part 8  Part 9  Part 10  Part 11  Part 12